If you're a bride-to-be, you've probably asked yourself if a first look is worth it, or if it will spoil the surprise of meeting your fiancé at the altar. To help couples make the big decision, I wanted to write a blog post today about my experience photographing first looks!
First thing first, I believe that deciding when you will see your fiancé on the wedding day is a VERY personal decision, and I always leave it up to my couples to decide which option will work best for them! Some couples want to hold a first look, and some of my couples prefer to stick with tradition and see each other for the first time as the bride walks down the aisle. Any option is totally fine with me as it is your wedding day, not mine!
I believe that deciding when you will see your fiancé on the wedding day is a VERY personal decision, and I always leave it up to my couples to decide which option will work best for them!
Some couples don't feel strongly about it one way or the other or may be thinking about a first look but they aren't sure of all the pros to holding one. This is where I like to educate brides on their options, answer their questions, and then, ultimately, let them make the most informed decision! If you are curious to know more about how I approach first looks and why I think the benefits of having this romantic addition to your wedding celebration not only adds to your wedding experience, but it also reduces stress then please keep reading!
You Should Do a First Look If . . .
1.) You want 40% More Portrait Time - You're investing a lot into your wedding photography. With a first look, you'll receive 40% MORE portraits of the two of you… and those are the images you will decorate your first home with! With a first look, you make the most out of this large investment and get the most for your money.
After the first look would come bride and groom portraits, and then you can schedule all wedding party photos before the ceremony. Afterward, only the formal family portraits would be left to take and then you'll be able to head to your cocktail hour quickly instead of having your guests wait for a longer period of time!
A first look helps to ensure that there is enough time for the most important photos (the ones of you two!) and can give you down time at the cocktail hour to enjoy food, drinks, and relaxed conversation with your guests!
2.) If You Want to Enjoy the Surprise Freely - You actually get to have intimate time on your wedding day with your man. Most brides don't realize that when you come down the aisle and totally SHOCK him with your gorgeous-ness… he can't even tell you how amazing you look. He can't touch you, embrace you or even SPEAK to you. You have to wait until 30 minutes later when the ceremony is over for him to react and tell you how amazing you look. And after 30 minutes of the ceremony, the reaction isn't the same as the initial first glance.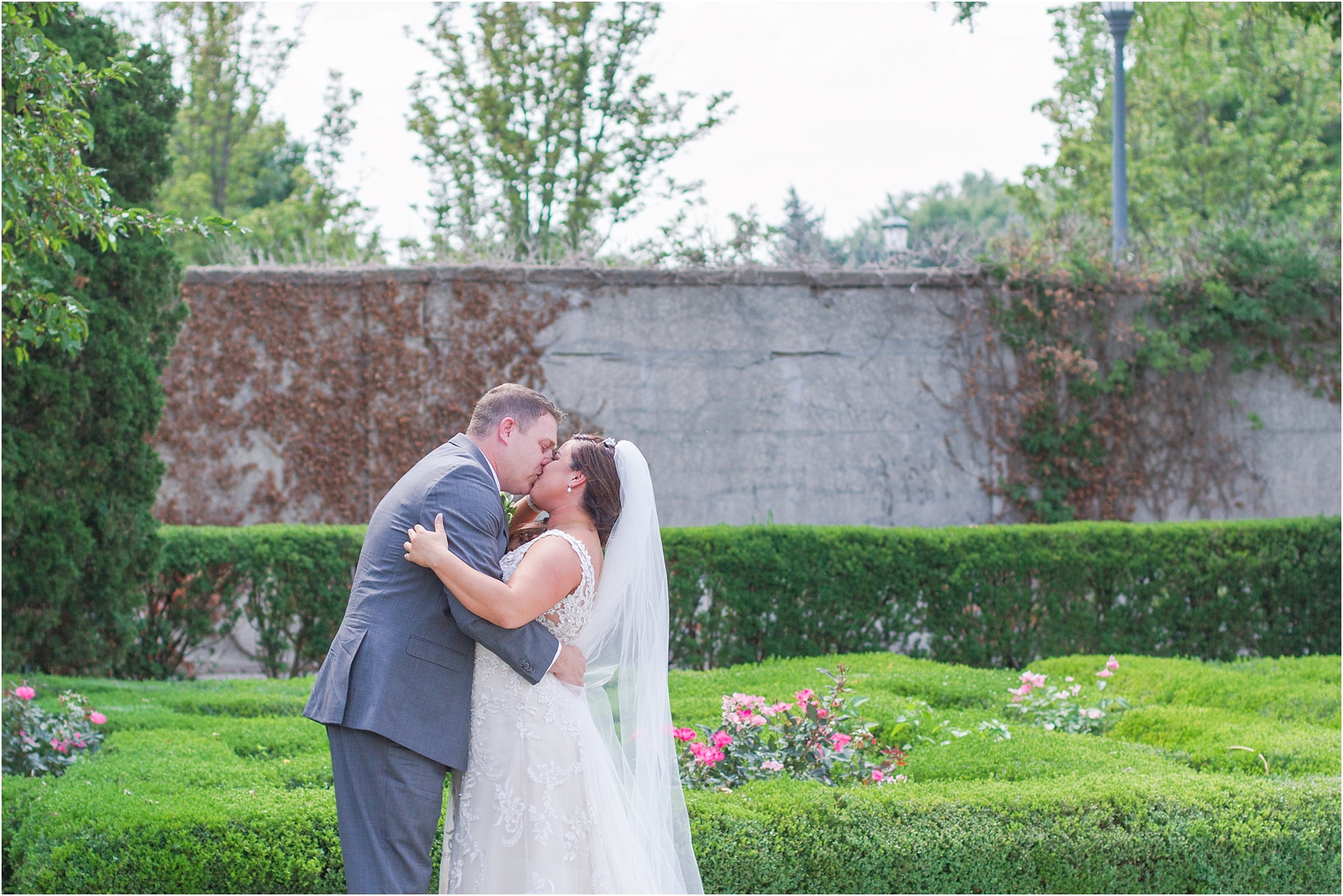 3.) If You Want to Extend Your Day by 3 Hours - First Looks allow you to extend your wedding day! Normally the wedding day would start when you come down the aisle, then the ceremony would end, you would rush through portraits so that you're not late for the introductions and then it's reception time. With a first look, your wedding day is extended by almost 3 hours! Instead of being rushed for your bridal party portraits… you actually get to enjoy them and have fun hanging out with your BEST friends on your wedding day. The WHOLE first half of my client's wedding albums are filled with images just from this time together before the ceremony.
4.) If You Want Some Alone Time - First Looks allow you to be TOGETHER and alone on your wedding day! When couples see each other, not only is it intimate, it is usually the only time to be alone the whole day! I've had couples cry and laugh and cry some more… and then that puts them in the PERFECT mood for their romantic portraits. Normally portraits are a little rushed without a first look and after the family formals, and it can be hard to really get back into that "lovey dovey" mode…. especially with family around! When you have just shared your first look, you're READY to love on each other and I always capture some super sweet images during those moments!
With the first look, the first time you see each other is private and shared just between you two (and me with my quiet, ninja-like camera)!
5.) If You Want to Get Rid of Your Nerves - I'd say, literally 1/2 of my couples who have decided to do a first look, the grooms were not fans of it at first. However, because they have never experienced their wedding day before, they didn't know how nerve-racking it can be. I have testimonials from so many grooms who initially weren't a fan of the first look... but afterward admitted to being SO much more relaxed and ready for the ceremony!
The nerves of seeing each other for the first time will be gone, and then you can simply look forward to and enjoy your ceremony!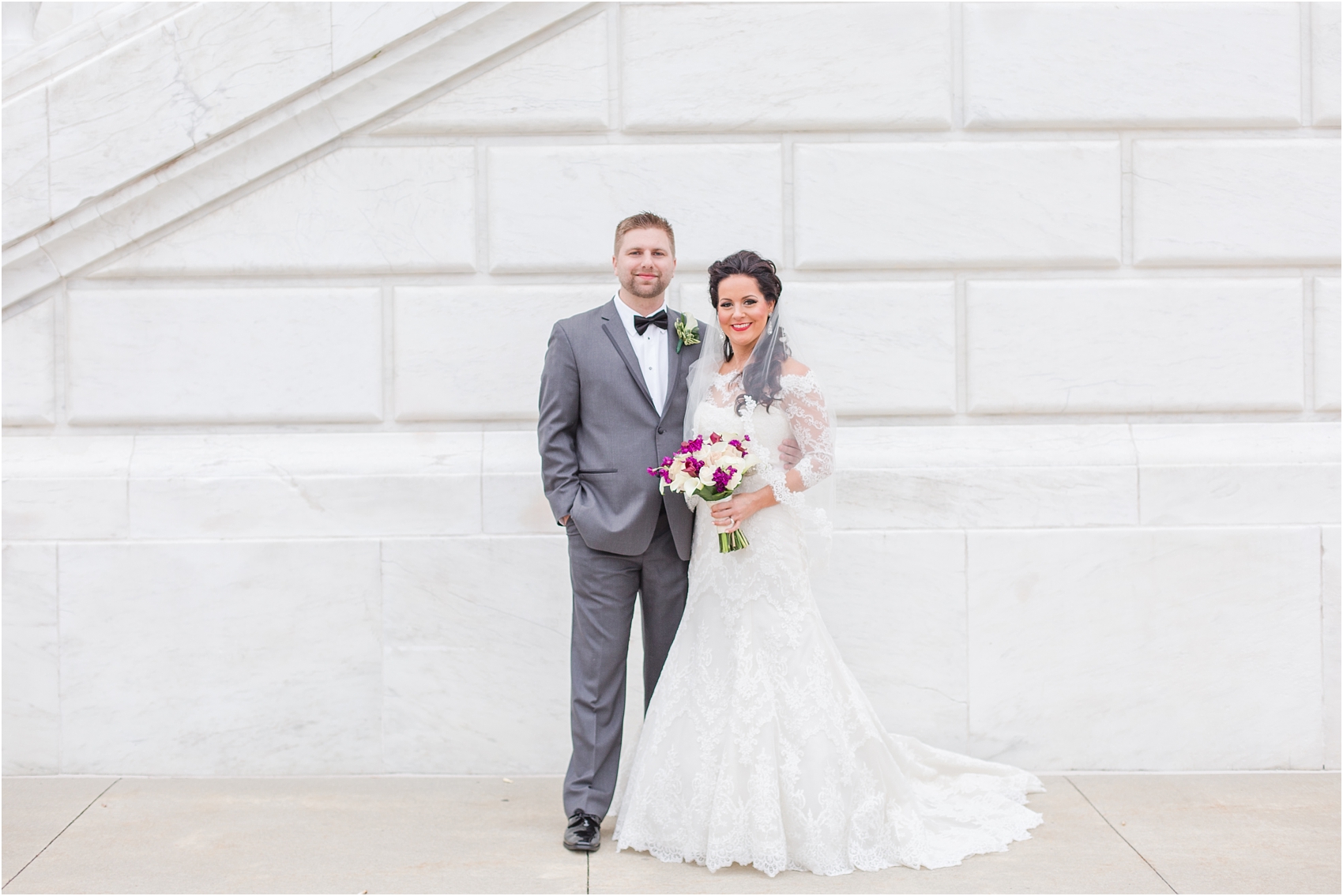 Don't Forget to Have Realistic Expectations . . .
One thing to remember if you want to have a First Look:
Bride's, if you have never seen your man cry or get emotional, you can't expect him to be overly emotional on your wedding day. Some guys just embrace their brides and never cry.... and that's OK! Some guys show very little emotion when their bride is coming down the aisle and that's ok too! Just enjoy this amazing day and try not to put any expectations on him. If you take this advice to heart, I could potentially be saving you a lot of disappointment on your day. One thing I have noticed after shooting close to 60 weddings is that the stress and nerves that come with a wedding day can sometimes make it hard for some grooms to truly express their emotions. It's just a lot to take in all at once. This is a great reason to share a first look and also a great reason to give some grace to your guy! Sure, you deserve to feel beautiful, but my encouragement to you is to enjoy this time together, no matter what his reaction is like!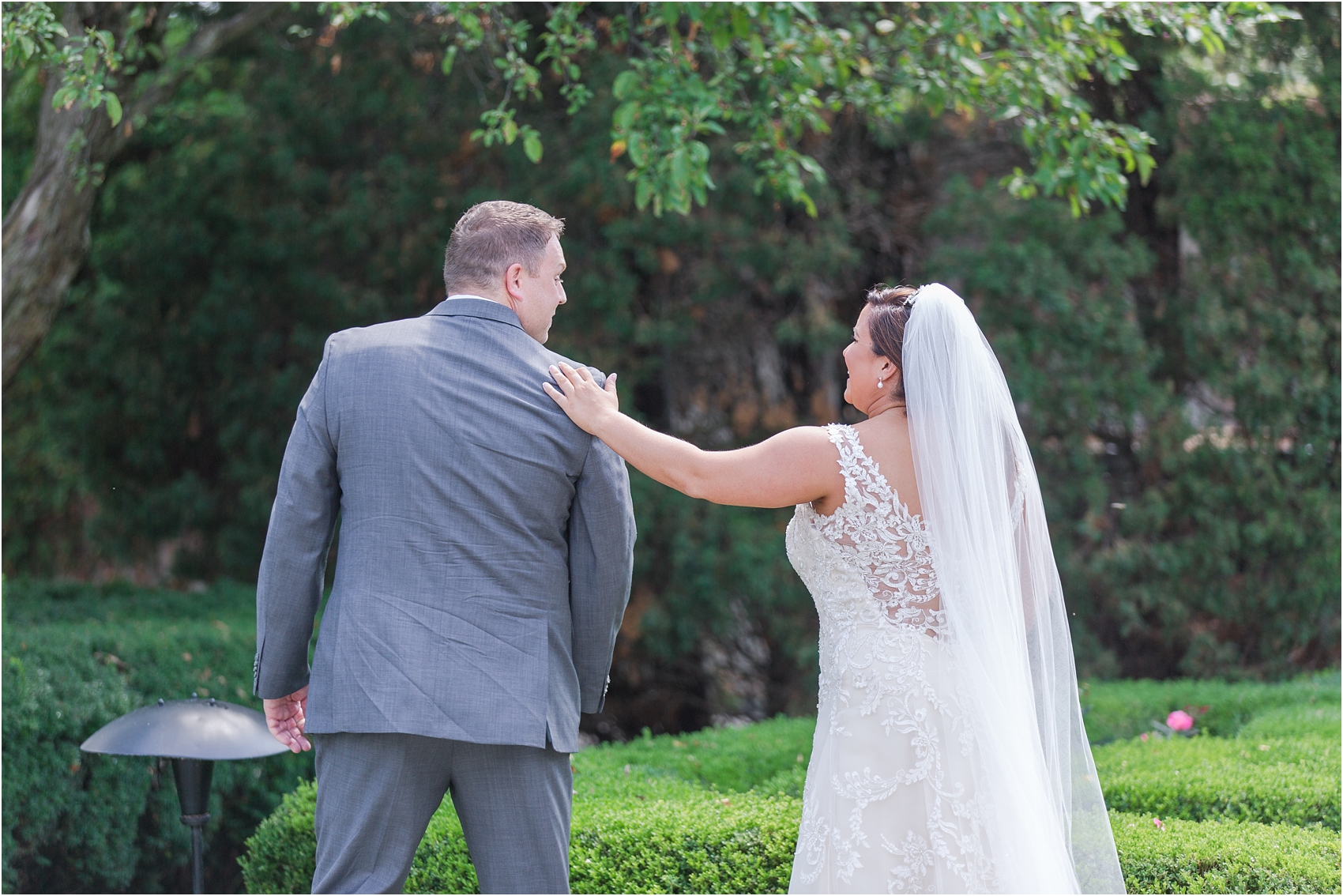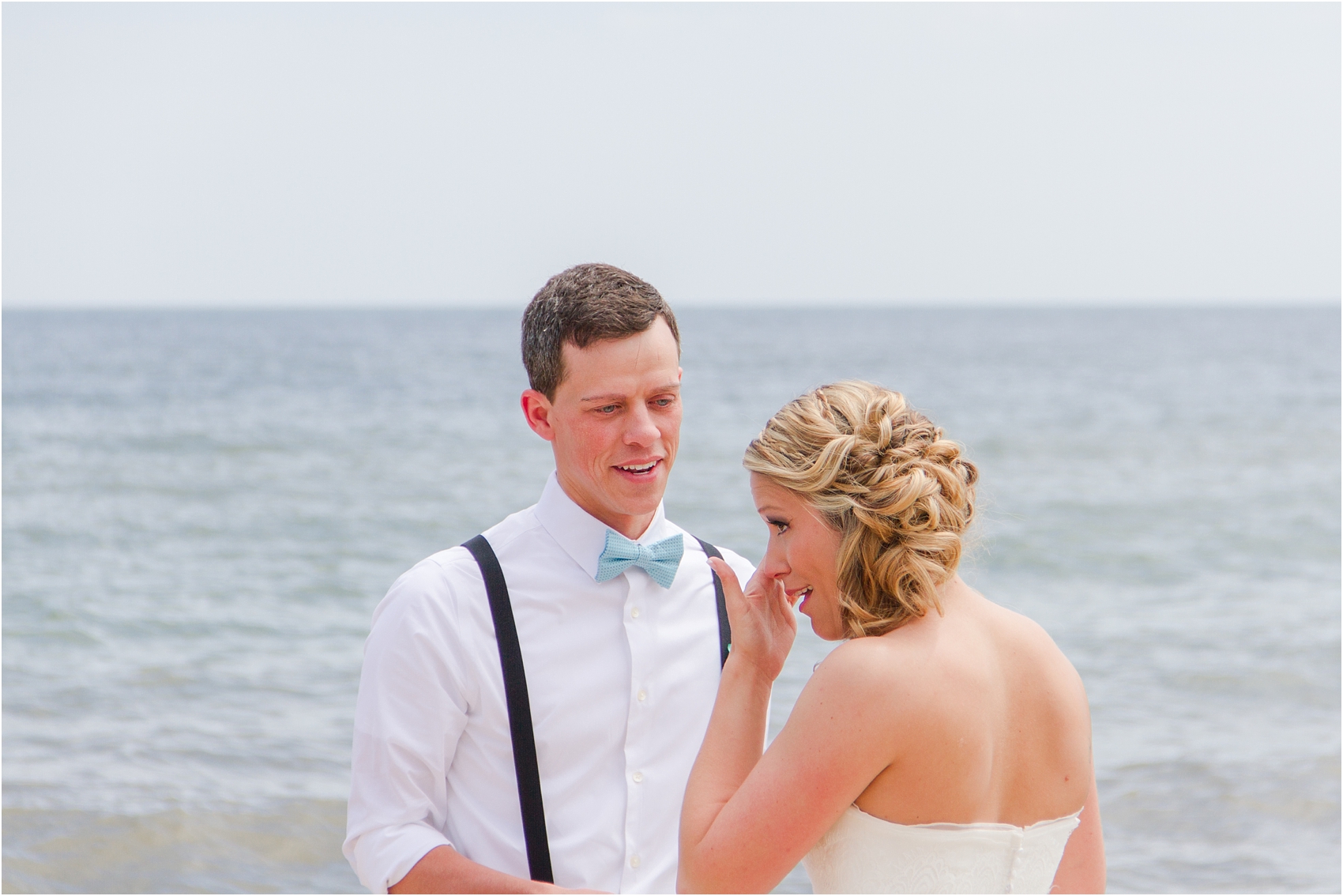 So there you have it! Please keep in mind that my intention as a wedding photographer is never to pressure couples to choose a first look - EVER! However, I believe there is a reason about 75% of my couples do decide to have one and that the only real con is that seeing each other before the ceremony goes against tradition.
I believe in photographing your wedding day the way you envision it unfolding and how you imagine it will feel to see each other for the first time! I want to capture these memories in a genuine and laid-back way so that when you look back on your wedding images in 20+ years you just feel the emotion of that moment and don't look back and say, "I wish we had done it the way we wanted to."
Join the Conversation!
Did you enjoy something about this post?! Did something about this story speak to you? I'd love to hear your thoughts and read your comments below! I want to thank you all so much for participating in my community and joining in on the online conversation. If you would like to share what you've read, please use the share button below!