Ok, I am going to try not to cry as I share Nicole and Phil's beautiful wedding day story!! I have such a connection to this CCP Couple because not only are they two of the most amazing people, but Nicole is also my one of my very best friends and my soul-sister! I have known Nicole since the third grade and we met while riding the bus to school. I think we bonded over our mutual weirdness and the fact that we lived within 2 dirt road miles of each other!
"I have known Nicole since the third grade and we met while riding the bus to school."
I couldn't have been happier when Nicole and Phil got engaged and then when Nicole asked me to be one of her two Maids of Honor! I would be splitting my Maid of Honor duties with our other soul-sister, Alicia, who I've also known for 11 years. These two ladies and I have spent a lot of time together over the last decade, through ups and downs, bad relationships, and now loving marriages!! At one point during Nicole's wedding planning, the topic of wedding photography came up. She said she had this crazy idea and wasn't even sure if it would be even possible, but she asked, "Courtney, is there a way you could photograph our wedding day while still being IN the wedding?!" She continued with, "I love your work so much and would absolutely LOVE it if you could take our photos, but I obviously want you in the wedding too." In less than ten seconds I replied, "Hell yes it's possible! Let's do it!!"
"She asked, "Courtney, is there a way you could photograph our wedding day while still being IN the wedding?!' "
Now some photographers would have said no way, it's impossible to do both, but for me I saw it as the marathon of wedding photography. I told Nicole that with great pre-wedding planning we could totally do it! Our game plan: when I wasn't directly performing my Maid of Honor duties (such as for the bridal detail photos and family portraits) I could capture the events of the day like I normally do, but when I was wearing my Maid of Honor badge (such as during the ceremony and toasts), Scott would step up from the secondary photographer role and into the primary photographer role. It was a tag-team strategy and it ended up being SUCH an amazing day!!
Nicole and Phil became Mr. + Mrs. on an unusually hot fall day (and when I say hot, I mean like fire-of-the-sun hot) and while surrounded by their closest friends and family in the countryside! Nicole and Phil had one thing in mind for their September wedding: To have a damn good party! The wedding celebrations took place in a secluded country field in Carsonville, MI, and they were very much inspired by Phil's Scottish heritage for their decor and theme.
"It was a tag-team strategy and it ended up being SUCH an amazing day!!"
A Scottish bagpiper played Nicole down the aisle and their ceremony was performed by a close friend. Phil wore the traditional Scottish wedding attire of a kilt and so did all his groomsmen! There were so many unique aspects to Nicole and Phil's wedding day and the atmosphere was really laid-back and almost festival-like. The whole day was so simple, yet so so romantic, special, and non-traditional! Nicole and Phil's wedding day was a representation of who they are as individuals and as a couple - and that's why I loved photographing it and being apart of it so much!
Now without further ado, here are some of my favorites from Nicole + Phil's wedding day that I hope you enjoy!
Nicole wore a stunning tulle and crystal A-line gown from Maggie Sottero and it evoked so much romance and a little bit of whimsy with the embellished sleeves! She looked so graceful in this gown, and I was fighting back tears as I helped fasten the necklace I had previously given to her from my trip to Scotland a few years ago.
The bagpiper played the most beautiful notes as Nicole made her entrance down the aisle, and I loved the flower crown she wore in place of the traditional veil!
When your best friend is literally glowing with happiness! Phil read Nicole a sonnet from Shakespeare before they exchanged their vows and wedding rings. How cute right?!
Nicole and Phil also opted out of a mainstream unity ceremony and instead of lighting a candle or pouring sand, they went with a Scottish inspired unity ceremony where they each toasted and then drank a small bit of bourbon.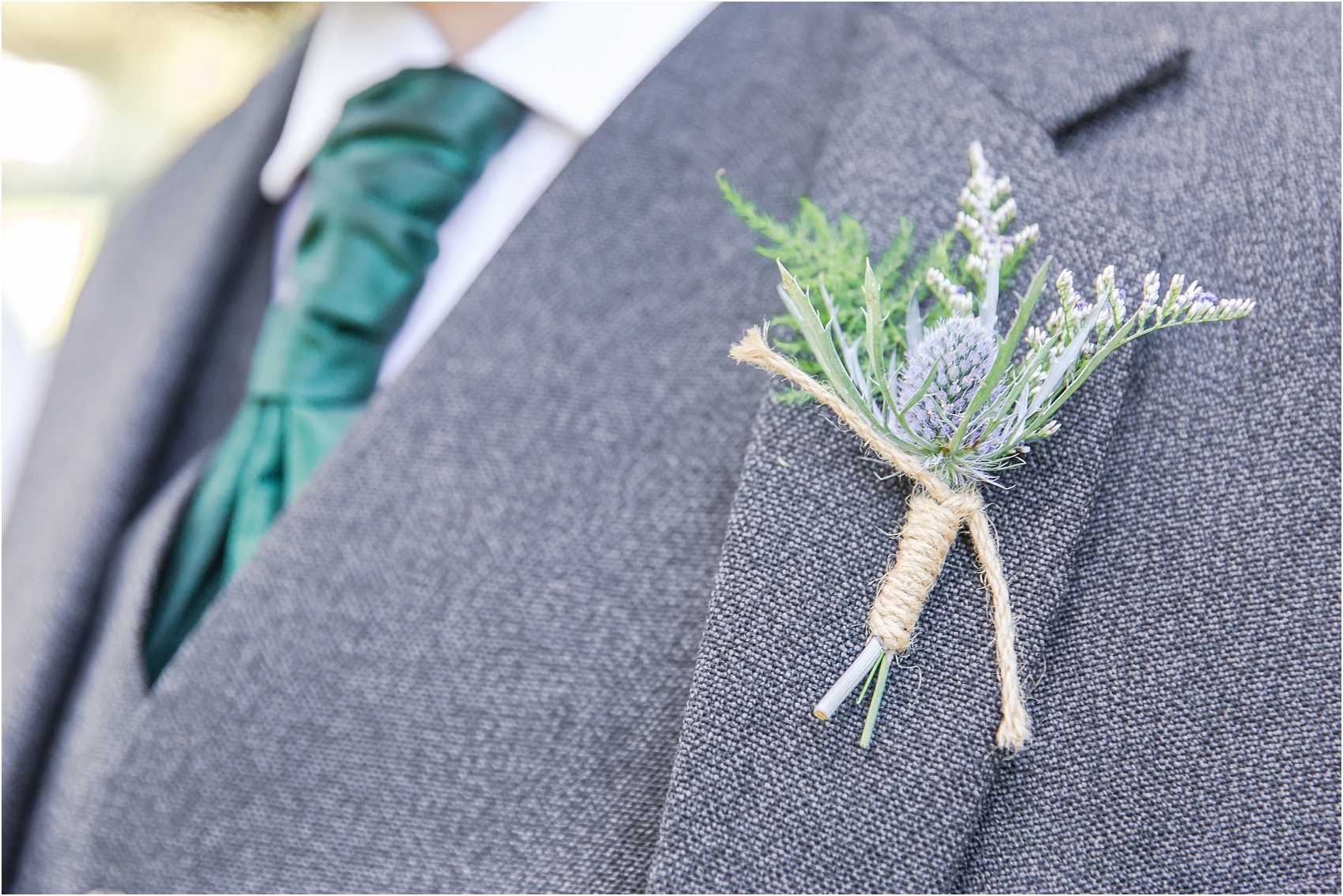 The face of happiness right here!!! The I-can't-believe-we-just-got-married smile!!
These are also the faces of very happy people right here because we were literally melting in the sun! Guys, I kid you not I don't think I have ever sweated so much at a wedding! We were all so happy to be walking back down the aisle and towards the shade and cold drinks!
During the more formal family portrait time, I love shooting straight through different groups and catching the in-between moments and laughter! These unposed and very natural looking moments during the family portraits are almost always my favorites because they just seem so real and fun to me!
Normally the bride and groom slice a small piece of the wedding cake to eat, but Phil decided to take things into his own hands and cut the cake in half!! That's why Nicole is laughing so hard as she watches him cut into it! I loved how fresh their cake looked with the blueberries, blackberries, raspberries, and strawberries on every tier.
Then it was time for me to take the mic and give my first ever Maid of Honor speech! Here's a small snippet of what I said:
"Today, Nicole married Phil and I am SO happy for her because it is the beginning of her always. Tonight is a celebration of a chance taken and the challenge that lies ahead. I pray that love will always be the guiding force in all of our lives. Tonight is a mere formality. Only an announcement to the world of feelings long held and of promises made long ago in the sacred spaces of your hearts.
The question is asked: "Is there anything more beautiful in life than a young couple clasping hands and pure hearts in the path of marriage? Can there be anything more beautiful than young love?" And the answer is given: "Yes, there is a more beautiful thing.
"It is the spectacle of an old man and an old woman finishing their journey together on that path. Their hands are gnarled, but still clasped; their faces are seamed, but still radiant; their hearts are physically bowed and tired, but still strong with love and devotion. Yes, there is a more beautiful thing than young love. Old love."
I was trying so hard to keep it together here, but while I was editing these images I was crying into my keyboard!
Nicole and Phil included some lawn games for their guests to enjoy during the reception and these games were Highland Game style complete with caber toss, hammer throw, and stone put.
Nicole's sister, Holly, was smiling from ear to ear as she watched Nicole and Phil's first dance, and I just loved this moment of her watching them!
My parents were actually in attendance at Nicole and Phil's wedding and this was the first time they've been able to see me and Scott in action as wedding photographers! It was really fun for them to get a first hand experience of seeing me work and all that goes into our job! My other close friend, Shayna, was in attendance and I can't believe how much her family has grown since she married Matt!
I was able to sneak out with Nicole and Phil for a few minutes after the sun had set to get these incredible end of the night images!! It's not often I'm far enough away from the city's lights to get such vibrant stars so I jumped at the chance to create this portrait for them! Believe it or not these end of the night shots are all in-camera and no photoshop was used to create these! I love capturing the candid and romantic moments on a wedding day, but sometimes it's fun to do a shot or two that's a little bit more artistic to end the night!
At the very end of the night, Nicole, ultimately decided not to toss her bouquet, but the next morning she pulled me aside and gave it to me with eager excitement! We both cheered during the handoff, and I said, "I got it! It's my turn and I'm getting married next!!" in my best Monica Geller voice. And it's true! I'll be the next in our girl-group to get married next August and I can hardly wait to have her by my side!⠀
Love,
Courtney
Join the Conversation!
Did you enjoy something about this wedding?! Did something about this couple's story speak to you? I'd love to hear your thoughts and read your comments below! I want to thank you all so much for participating in my community and joining in on the online conversation. If you would like to share what you've read, please use the share button below!